BMW Limo Rental from NY Limo
Are you going to a party and need to take your friends along as well? Is it your birthday and are you hungry for a special adventure? If yes, you can benefit from NY Limo's BMW limousine rental services in NY. You can hire any make of this vehicle and you can choose any color you want. The only thing we would warn our customers about would be that they should book their vehicle in advance so that it is available on the date and at the time when it is needed. For your ultimate luxury New York BMW limousine needs, you should get in touch with our professionals.

We have a wide variety of BMW limo rentals in New York that are available and they usually differ in terms of size. The smaller vehicles have four doors and do not have enough seats for a large group of people. It also may not have a divider window. However, a bigger vehicle will have six doors, a divider window and additional seats to accommodate more people. You can fit as small as 6-8 people or as big as 14-20 people in our vehicles. NY Limo offers this range so that we can cater to groups of all sizes.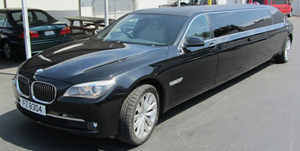 Usually, the bigger the NY BMW limousine, the more the number of features you can benefit from. Call NY Limo today and make as many enquiries as you like. We will answer all of your questions so that you can comfortably come to us, trusting us for a quality BMW limousine rental service in New York. You cannot trust anyone else since most of our competitors try to compensate for the lack of customers and reflect that in their exorbitant prices. When you can get high quality and low prices with us, why would you want to go to someone who is maximizing their benefit and reducing yours?
Your BMW limousine rental service experience in New York will never be the same again once you come to NY Limo. Our quality, our range of vehicles, our colors, our features, our dedication, our honesty and our credibility cannot be matched no matter how hard our competitors try to get ahead of us. We know that you will make the right decision and come to us if you need a BMW limo rental in NY.