Our prom limo service in New York is the best around. When you are finishing high school, one event to mark the end of it all is prom. Prom is meant to be a day filled with fun and memories you can take with you for a lifetime. To add to those memories, you probably want to have a fun and stylish way to get to or away from prom – by means of a NY promo limo. NY Limo can provide this service for you even if it is just a small ride from your house to the prom location. Our prom limo services in NY have become very well-known because of the number of people who have been coming to us over the past few years. This is because they know that we deliver when it comes to quality.

It certainly is prom but it does not mean that you can spend extreme sums of money on a transport service. NY Limo wants students to enjoy our prom limousine service and so we offer this service at the most affordable price. Prices for vehicles available for prom are usually much lower for the same vehicles hired for any other purpose. We lower these rates so that the maximum number of students can benefit from our service and add a dash of fun to their day. You might want to go alone or you might want to go with a huge group of friends. No matter how you prefer to go, you can count on an affordable prom limousine in NY with us.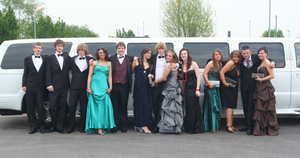 One of the beneficial things to do would be to go with your friends since not only will it be fun, it will also cut the price lower for each individual. You should certainly take advantage of the number of seats in the vehicle and make sure that there is one for every friend of yours. By going together, you can save costs for yourself. NY Limo wants to make this affordable so that students can rent it for a longer time and pay a lower rate.
What is so great about our NY prom limousine service is that we do not have one or two vehicles confined for this purpose. We have the full range that is accessible so you can choose any vehicle you and your friends want to go to prom in. NY Limo also has various colors so you can choose the color of the vehicle. Prom is all about elegance and flair. What would be better than coming out of a fancy limousine to go to prom?
NY Limo is the only service that offers an exceptional NY prom limo service and you certainly do not want to make the mistake of going to anyone else. If you do, you risk quality and you will have to pay a huge amount of money for the service.
NY Limo offers pick up services but we also have chauffeurs to drop you off once the event is over. We have the complete package and we do not convey half the service. We go all the way and we do justice to the price we ask for. For fun and memories, make sure to come to us for prom limousine services in New York if your prom is approaching. You won't regret your decision to rent with us. Choose us and choose luxury for your special day!