A party limo in New York is the way to go!
Limousines often add a touch of fun and sophistication to anything. No matter what kind of limousine you hire from NY Limo, it is likely that you will make a mark wherever you go. For that reason, if you have a party to go to and it is an important one for you, you should visit our showroom and look at the limousines we have available for our party limousine services in New York. It may be a party in the vehicle with all your friends because of a special occasion or you might be going to a sophisticated cocktail party in the evening. For all such occasions, a limousine is the perfect addition.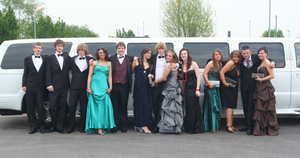 What is even more perfect is that NY Limo offers a wide range of vehicles that are available for this purpose. You can choose the vehicle according to the party and according to the number of people who will be in the vehicle with you. To match your vehicle with the party, you can choose the color from amongst the ones we have available. This is a perfect way to attend or to leave a party since a limousine always makes an impression of elegance and luxury.
You can also choose the vehicle according to the features you need. If you are planning on driving around New York with your friends in a limousine as a birthday celebration, you might be looking for a vehicle that has a small bar in the vehicle and has enough space to allow that. You will also be looking for a vehicle that accommodates a sizeable group of people. If these requirements need to be met and you do not know where to start, just let the pros at NY Limo know about these requirements and they will make recommendations in a flash. New York party limo rentals couldn't be more convenient.
Nothing makes a party more memorable than some flair and pomp. You can easily hire a party limousine service in NY and have them take care of all your needs. NY Limo especially enjoys this service because of the number of satisfied customers who emerge from this service. We always make our customers happy and sometimes, we offer customized features that the customer can choose from to make the ride special. Come to us when you need special NY party limousine services.